April 28, 2017
July 15, 2019
by
Houzz
If you're tired of how your kitchen looks but aren't ready to commit to a full renovation, paint just might be your new best friend. Painting the walls, cabinets or both can provide a relatively low-cost face-lift. And because paint is so easy to switch out, it's less of a commitment than new countertops or backsplash. Read on to see how five homeowners and one renter used this simple tool to dramatically change the feel of their kitchens.
Read More: See More Kitchen Transformations
1. Bright Pink in Alexandria
Kitchen at a Glance
Who lives here: A retired couple and their teacup poodle
Location: Alexandria, Virginia
Size: About 260 square feet (24 square meters)
Designer: Stephanie Dickens of Case Design/Remodeling
BEFORE: The wife's favorite color is pink, but the dusty rose walls in this kitchen were no longer doing the trick. So when the couple opted for a full remodel, they decided to incorporate her go-to color in a big way.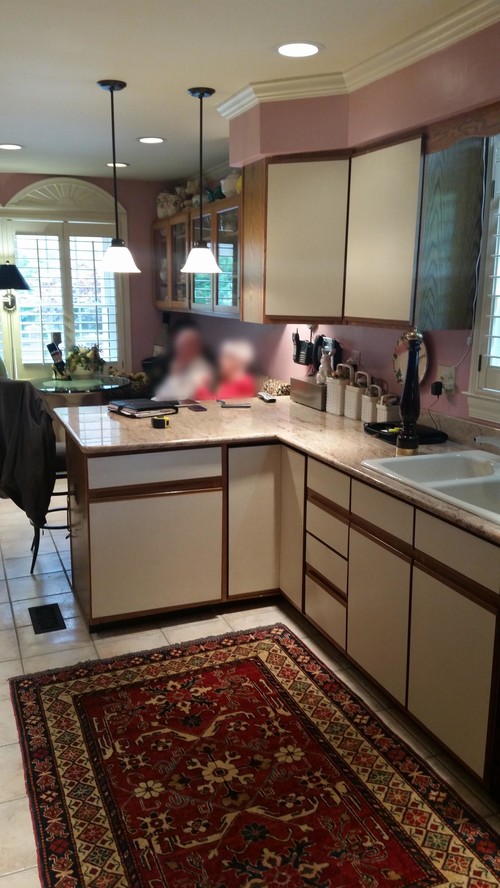 AFTER: The couple worked with designer Stephanie Dickens to redo the space. Although the renovation included new floors, cabinets and appliances, it's the bold wall paint that really makes the room memorable.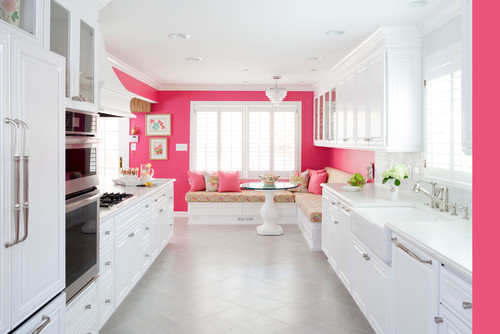 Read More: Invest in New Kitchen Cabinets
Painting tip: Choose a color you love for your kitchen. After all, why not?
2. More Personal in Portland
Kitchen at a Glance
Who lives here: A couple with two young children
Location: Portland, Oregon
Designer: Encircle Design and Build
Size: 220 square feet (20 square meters)
BEFORE: When the family purchased this 100-year-old home from a flipper, they got nice finishes that were designed to please the crowd. But they didn't want a home that appealed to everyone.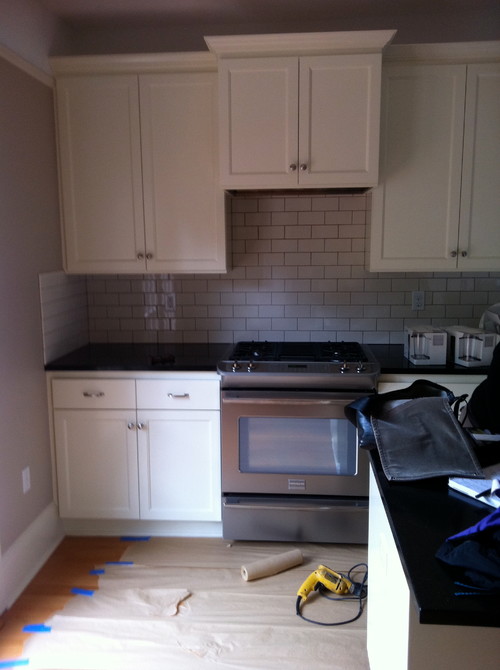 AFTER: Instead, the owners, who are very involved in theater, chose to go with something more dramatic. They kept the cabinets in place — adding a few door inserts — but dramatically changed the room by painting the cabinets a bold avocado green.
Read More: Expert Advice on How to Paint Kitchen Cabinets
3. Going Green in San Antonio
Kitchen at a Glance
Who lives here: Angela Aadahl and her dog, Mae
Location: Keystone Park neighborhood of San Antonio
Size: About 120 square feet (11 square meters)
BEFORE: This photo shows the original kitchen, along with the previous owner and Aadahl's real estate agent, Bill Defrees.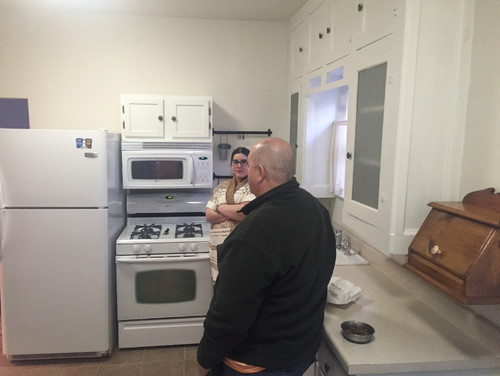 AFTER: The kitchen was a complete DIY by Aadahl and some of her generous friends. She painted the existing lower cabinets green and pulled down the upper cabinets, replacing them with shelves.
Painting tip: Consider the charm of two-tone cabinets for a fresh look in an older kitchen.
4. Brighter in San Francisco
Kitchen at a Glance
Who lives here: Eva Muller, principal designer and co-founder of sfHeimat; Cory L. Bradley, oil painter; and their Hungarian Vizsla dog, King Cashus, usually just called Cashus
Location: Potrero Hill neighborhood of San Francisco
Size: 1,250 square feet (116 square meters); three bedrooms, 1½ baths
BEFORE: Muller saw the spacious kitchen as visually heavy, with its dark cabinets and wood floor.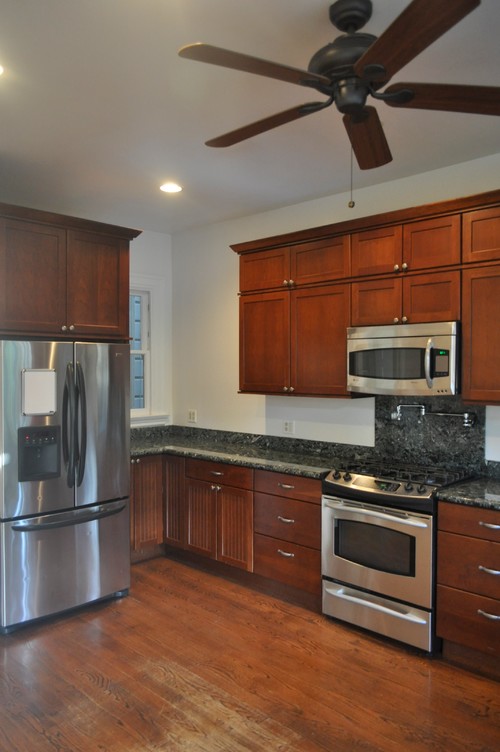 AFTER: The couple had the cabinets painted a white that matched the existing wall paint, then coated the walls in a pretty blue-gray. This pulled-back view shows the island that was also added.
Painting tip: You don't have to paint everything white to make a kitchen feel light. Here, darker walls work well with white cabinets.
5. A Renter Ditches the Orange in L.A.
Kitchen at a Glance
Who lives here: Peter Dolkas, an interior decorator and stylist
Location: Los Feliz neighborhood of Los Angeles
Size: About 90 square feet (8.4 square meters)
BEFORE: Peter Dolkas' 1940s apartment building in the Los Feliz neighborhood of Los Angeles came with cabinets he found cheap-looking and at war with the gray countertops.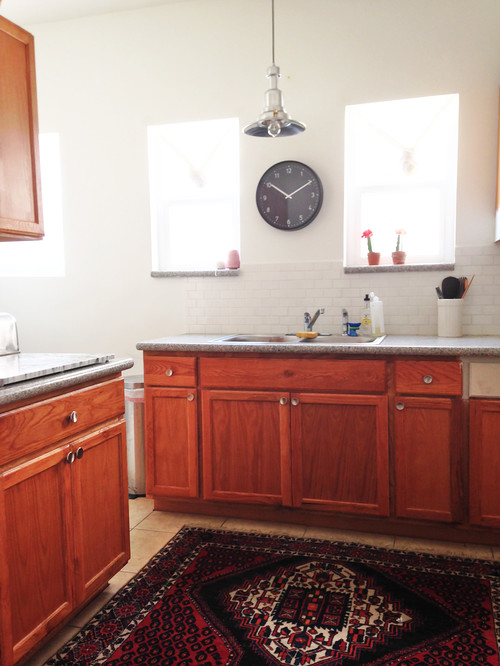 AFTER: So he painted the cabinets white. His landlord was OK with the change.
Painting tip: We highly recommend you get your landlord's permission before painting — or at least check that it's not prohibited in your lease.
6. A Caterer's Kitchen in Santa Rosa
Kitchen at a Glance
Who lives here: Lynn McCarthy of Cottonwood Catering & Events
Location: Santa Rosa, California
Size: 1,465 square feet (136 square meters); four bedrooms, two bathrooms
Year built: 1941
BEFORE: Here's the kitchen when McCarthy purchased the home in 2012 — not the ideal space for a caterer. She uses her home kitchen to test recipes and do some food photography.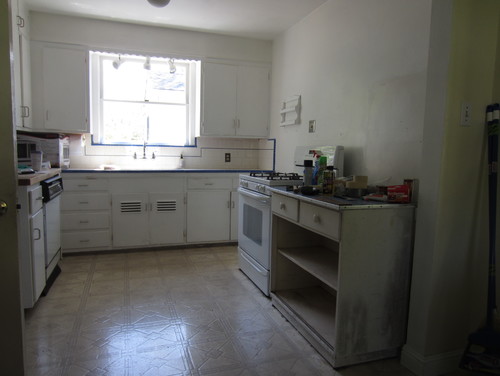 AFTER: McCarthy added a DIY wooden peninsula, which can just be seen at the right of this photo (see next photo for a closer view), to improve the workflow. Another major change was the updated stove and range. Notice that the cabinets are the same — the lowers have been touched up with a light paint color.
Painting tip: Subtle cabinet paint allows a rock-star oven to be the kitchen's star.