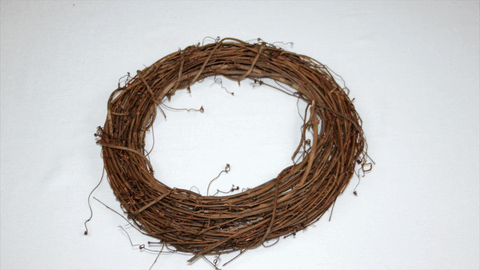 Autumn is here! That means boots and pumpkin spice and, of course, pretty decorations. If you want to deck out your home for fall, wreaths are a good way to go. They're inviting and add a pop of charm to your front door. What's not so charming is how expensive they can be in stores. To help you out, we came up with the perfect fall wreath that you can DIY for under $20–seriously! Follow the instructions to make it yourself.
Supplies:
A wreath (we got one from

Michaels

for $5)

Hot glue gun with glue sticks

Felt leaves (We found ours at Bed, Bath and Beyond for $1.99/4-pack
Instructions:
1. Gather your supplies and heat up your glue gun.
2. Arrange the leaves onto the wreath however you like them. Start with one layer.
3. Carefully add a dot of glue to each leaf and press it firmly onto the wreath.
4. For a fuller wreath, go back around and glue on a second layer of leaves.
5. Hang your new wreath on your front door or inside your house for some autumn charm!
Are you going to try make this DIY fall wreath? Let us know in the comments below or on Twitter @Redfin!