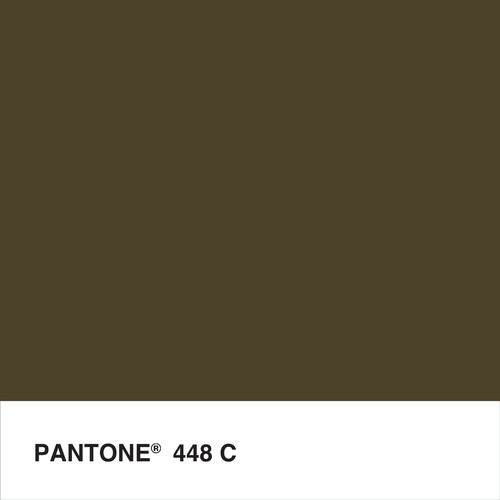 You may have caught the story making the rounds this summer that "the world's ugliest color" had been identified and was being used on cigarette packaging in Australia to discourage smoking. To find this hue, the Australian government hired a market research firm to interview the public to see which colors people find the most repellent.
The winner? Pantone 448C, shown here. It's essentially a dark brown with a dab of olive green. Among the finalists were lime green, white, beige, dark gray and mustard.
Now, I tend to believe that there are no ugly colors. Whether a single hue looks terrific or awful often depends on the context in which it's viewed. Factors such as the other colors it's used with, lighting, materials, textures and sheen all play a huge role in influencing our perception of a color.
So as a lover of all the colors, I decided to take up the challenge to see if I could find successful uses of these so-called ugly colors in homes.
Here's a dark brown wall color that appears, from my monitor anyway, to have a slight green undertone, but I would in no way call this ugly. Quite the opposite. It's a deep, rich hue that brings a warm and cozy vibe to this luxurious master bedroom. Sure, I could imagine a space in which this color would not be appealing, but that's true of all colors. And the reason it works well here is that there's a pleasing mix of materials, many of them with a luxurious feel, as well as dashes of compatible colors, such as red and white, that pull it all together.
Note: The colors you see on your monitor are usually not accurate depictions. If you see a color you like here, it's best to gather up paint swatches and compare them to what you see on your monitor to make the best match.
A similar dark brown with a greenish cast adorns the walls of this elegant dining room. It's a fantastic foil for the crisp white moldings, making them really stand out.
This beautiful bedroom is painted in Sherwin-Williams Enduring Bronze, which has a similar formula to Pantone 448C. I think this color works best for spaces in which a relaxing, cozy vibe is desired, such as dining rooms and bedrooms. Here it's the perfect neutral background to the more colorful components — the upholstered bench and the ceiling. The wall color adds drama without distracting from these interesting elements.
More: Incorporate These Hues in Small Doses with a New Duvet Set
Lime green also came up as "unappealing" to those interviewed by the market research team. I was shocked by this, as it happens to be one of my favorite colors. It's a bold hue for sure, but when used with care, in small to moderate doses, it adds so much personality to a space. It's especially useful for adding some zing to minimalist spaces.
Also making the list of finalists for so-called ugly colors: mustard. I'm going to assume those interviewed were referring to a brown mustard hue rather than mustard of the bright yellow variety. The presence of brown actually knocks down the intensity of the hue, neutralizing it somewhat.
As with lime green, I think the key to working with mustard yellow, especially darker mustards, is limiting it to small areas. When used in large doses, or in spaces that lack plenty of natural light, it can look a bit dingy. The example here use the color brilliantly. The spaces include lots of white to help keep the look clean and crisp.
Perhaps white made the list of unappealing colors because many people find it cold, stark and institutional. When it comes to interiors, however, white has been extremely popular the past few years.
The trick to making an all-white, or mostly white, room sing is to pay attention to contrasting materials, textures and sheens. Since you aren't employing a variety of colors to add depth and visual interest, you need to generate appeal via the materials in the room.
Beige has taken a beating lately, and it, too, was on the list of "bad" colors. Like white, beige can look fantastic when care is taken to vary the materials and textures. I also think using a mix of colors in the beige family, from the lightest of warm whites all the way to dark tans and browns, challenges the notion of being bland with beige.
Dark gray is another favorite hue of mine that also made the list of "ugly" colors. I can understand why this is a challenging color for many. While I find it dramatic and elegant in a home's interior, many feel it can make a space appear gloomy. When paired with contrasting crisp white and warm wood, along with a variety of textures the spaces get cozy while maintaining a sophisticated vibe.
I think the takeaway is that taste in color is extremely subjective. And I, for one, am thrilled that we don't all like and dislike the exact same things — imagine how boring the world would be if that were the case. Plus, I'd probably be out of a job as a designer.