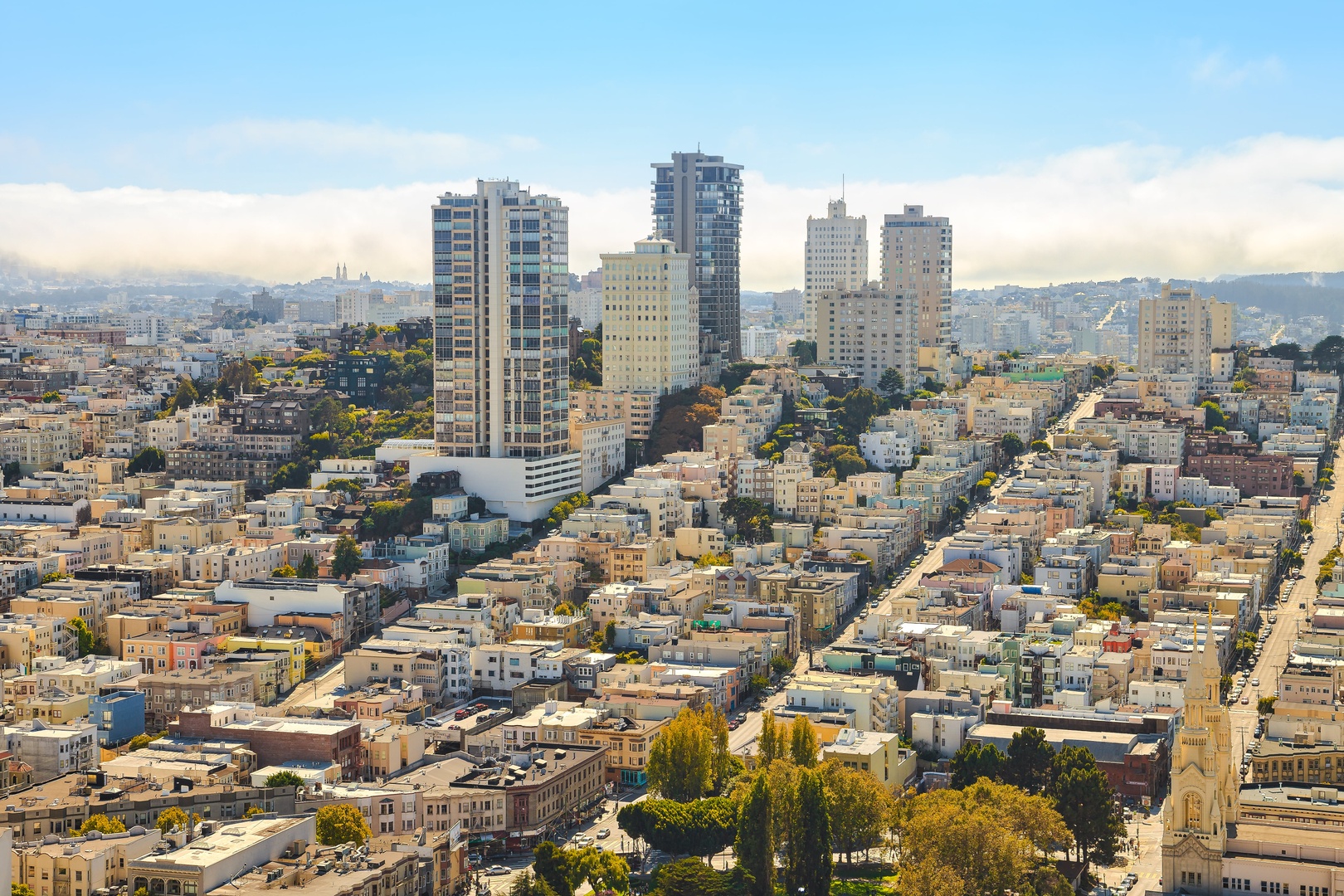 Historic Charm
Nob Hill in San Francisco boasts a rich history and elegant architecture, with iconic landmarks like the Grace Cathedral and the Fairmont Hotel, adding to its timeless allure.
Upscale Shopping and Dining
The neighborhood offers upscale shopping experiences along streets like Polk Street and Union Street, where luxury boutiques and fine dining restaurants cater to discerning tastes.
Hilltop Views
Positioned atop one of San Francisco's famous hills, Nob Hill treats residents and visitors to breathtaking views of the city skyline, the Bay, and the iconic Golden Gate Bridge.
Cultural Attractions
Nob Hill is home to cultural gems like the Cable Car Museum, offering a glimpse into San Francisco's iconic transportation system, and historic theaters like the Masonic Auditorium, hosting a variety of performances and events.
What's it like to live in Nob Hill?
Perched on one of San Francisco's iconic hills, Nob Hill showcases a rich history and a refined atmosphere. This upscale district boasts an impressive collection of stately mansions, renowned luxury hotels, and architectural landmarks. With its elevated position, Nob Hill offers sweeping panoramic views of the city, including the iconic Golden Gate Bridge and Alcatraz Island.
Culinary enthusiasts will delight in the neighborhood's diverse dining scene, featuring high-end restaurants serving gourmet cuisine, cozy cafes offering artisanal delights, and hidden gems tucked away on its picturesque streets. Nob Hill's distinctive character, blending historic charm with contemporary living, makes it a sought-after destination for residents seeking an elegant urban experience in the heart of San Francisco.
What is the housing market like in Nobb Hill?
What's the best way to get around Nob Hill?
Nob Hill offers excellent transportation options and is also a Walker's Paradise. With convenient access to public transportation, including buses and cable cars, it's easy to navigate the neighborhood and explore other parts of San Francisco. The central location also means that many amenities, shops, and restaurants are within walking distance, and the neighborhood's moderate inclines and bike lanes make it bike-friendly for those who prefer to pedal their way around.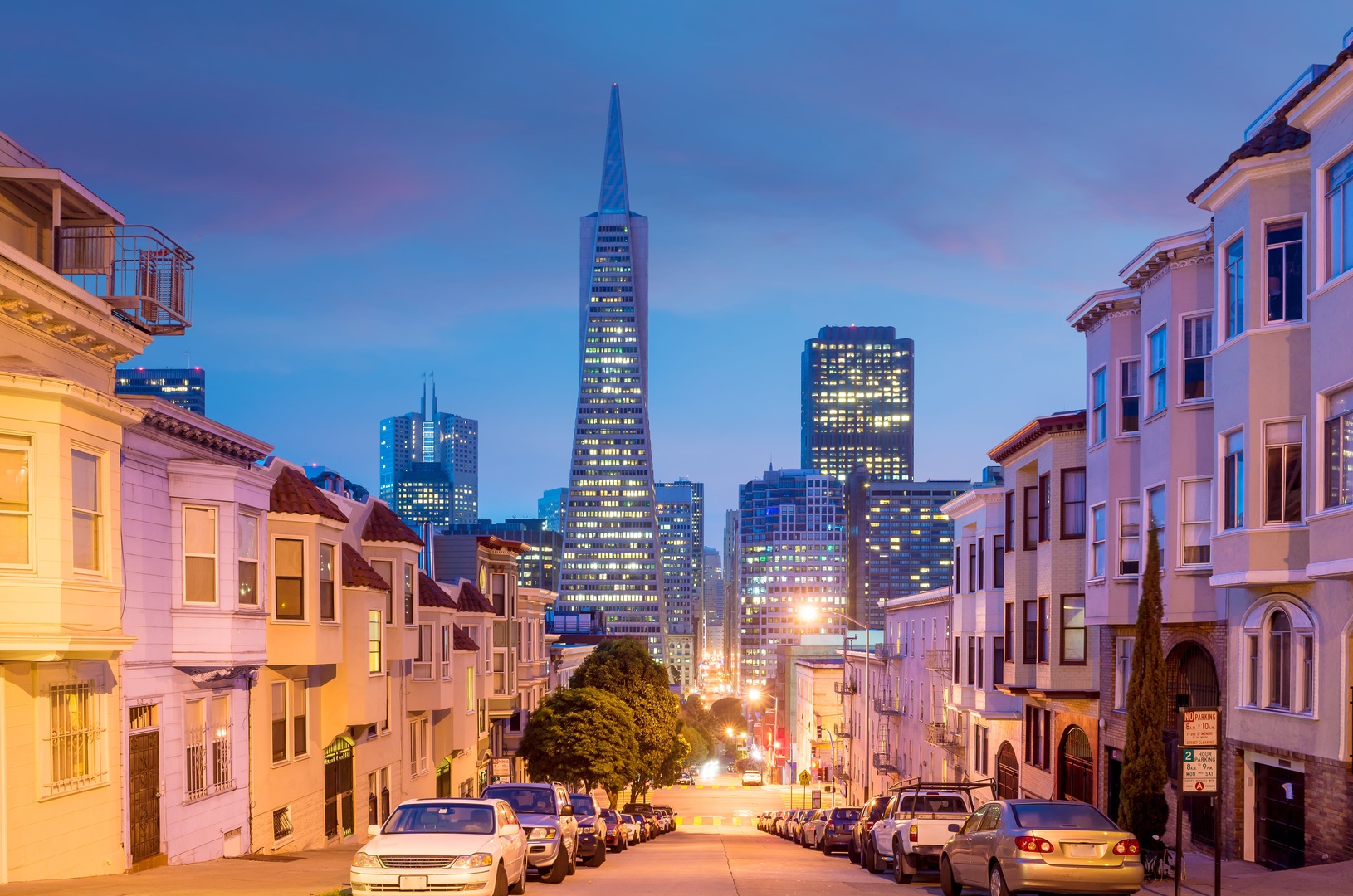 Top things to do in Nob Hill
Grace Cathedral: A stunning architectural landmark and a vibrant Episcopal church that hosts various cultural events and concerts.
Huntington Park: Relax and unwind in this picturesque urban park, featuring lush greenery, scenic pathways, and a charming playground.
Cable Car Museum: Visit the Cable Car Museum to learn about the fascinating history and mechanics of San Francisco's iconic cable cars. Explore the museum's exhibits, which include historic cable cars, photographs, and displays showcasing the inner workings of the cable car system.
SF Masonic Auditorium: Attend a live performance or concert at this iconic venue, formerly called the Nob Hill Masonic Center, that's known for its impressive architecture and hosting a wide range of cultural events.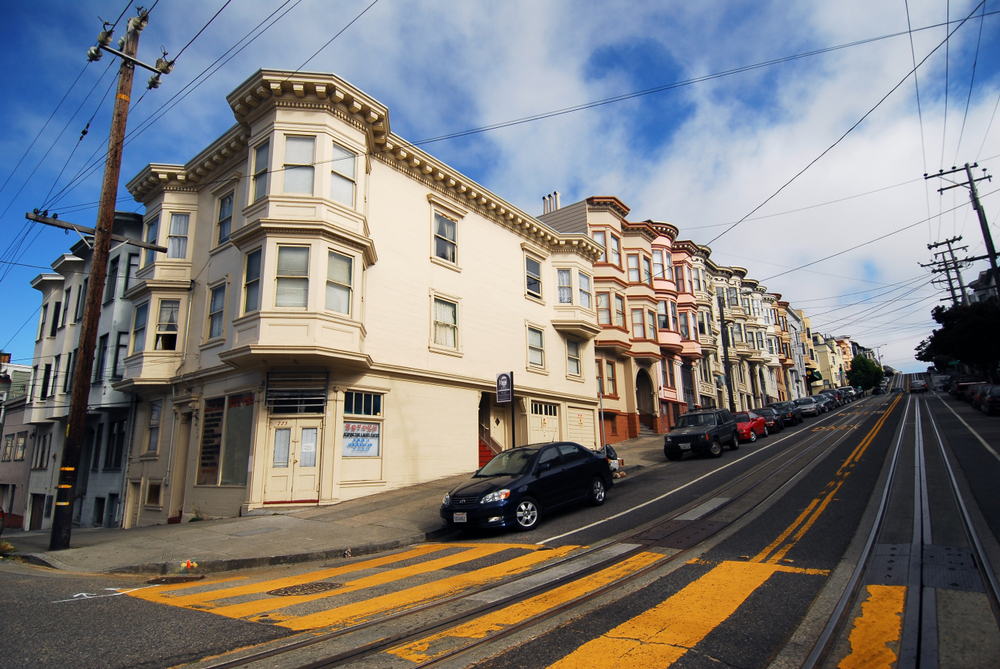 Must-try restaurants and cafes in Nob Hill
Top of the Mark: Located atop the InterContinental Mark Hopkins hotel, Top of the Mark offers breathtaking panoramic views of San Francisco along with a sophisticated ambiance. It is famous for its signature martinis, live music, and a menu featuring small plates and classic American fare.
Tonga Room & Hurricane Bar: Situated within the historic Fairmont San Francisco hotel on California Street, this tiki-themed destination offers tropical cocktails, live music, and a unique dance floor that floats on a lagoon.
Skillet Diner: Known for its delicious comfort food with a modern twist, including gourmet burgers, fried chicken, and tasty brunch options.
Ristorante Milano: Situated on Powell Street, Ristorante Milano is a family-owned Italian restaurant known for its authentic dishes, warm hospitality, and charming ambiance, making it a go-to spot for a memorable dining experience.
Swan Oyster Depot: Located on Polk Street, this beloved seafood spot in Nob Hill serves fresh oysters, crab, and other delectable seafood specialties in a casual, counter-service setting.
Hyde Out: A stylish rooftop bar with panoramic city views, craft cocktails, and a chic atmosphere.
Cordon Bleu: A hidden gem offering delicious Vietnamese cuisine, including flavorful pho, crispy spring rolls, and savory banh mi sandwiches, with friendly service and affordable prices.
Nob Hill Cafe: A neighborhood favorite on Hyde Street, Nob Hill Cafe offers classic Italian dishes, including pasta, pizza, and hearty meat entrées, in a cozy and inviting atmosphere.
Tips and insights from Nob Hill locals and experts
""The businesses and residents of Nob Hill are the friendliest and most welcoming I have ever experienced. Nob Hill is home to wonderful people and many fun and entertaining events throughout the year, not to mention the daily encounters with dogs of many sizes, shapes, and colors." - The Vampire Tour of San Francisco, which has been running in the Nob Hill neighborhood for 22 years.


"We love the Nob Hill neighborhood for its stunning views and ease of accessibility. While the hill has plenty to do for whatever fits your vibe, you can also walk down the hill in either direction to experience the vibrancy of North Beach, Union Square, or the Polk St. corridor. Some of our favorite places include Key Klub, which has an extensive list of natural wines and hard-to-find beers, and Le Beau Market, a family-owned neighborhood market with a full-service deli and excellent customer service. We also recommend Ryoko's, a chic sushi restaurant open late at night in cool, discreet basement digs, and Summer Place, a neighborhood bar with creative cocktails and knowledgeable staff." - Otherwise Brewing


"Our favorite part of Nob Hill is the cable car ride. It's like a roller coaster but with city views. As you whizz through these historic streets, watch for those Victorian architectural gems – they're like puzzle pieces of the city's past. Once you ascend the hill, you get a jaw-dropping panoramic view of the city and the Bay Bridge. Sunsets here are like an epic finale of a future tech escape room." - Reason, a high tech escape room company.


Where is Nob Hill in San Francisco?
Nob Hill is a centrally located neighborhood in the heart of San Francisco. It is situated between the neighborhoods of Russian Hill to the north, Chinatown to the east, Union Square to the south, and Pacific Heights to the west.
Is Nob Hill a good neighborhood in San Francisco?
Nob Hill is a desirable neighborhood in San Francisco for its central location, stunning views, and historic charm. Residents enjoy easy access to downtown and upscale amenities, including restaurants, bars, and shops, providing a vibrant cultural scene. However, it's important to consider a few factors. The hilly terrain can be challenging for pedestrians, and parking can be difficult to find. The cost of living in Nob Hill tends to be higher, and noise levels can be elevated due to the neighborhood's central location and nearby nightlife. Overall, Nob Hill offers a vibrant and convenient urban living experience.
What is Nob Hill known for?
San Francisco's Nob Hill neighborhood is known for its upscale and vibrant character, appealing to both residents and visitors. The neighborhood is famous for its sophisticated ambiance and luxurious lifestyle, with an array of high-end restaurants, stylish bars, and exclusive shops. Nob Hill's charming historic architecture, picturesque parks, and its status as a cultural hub contribute to its allure.
How far is Nob Hill from downtown San Francisco?
Nob Hill is located in close proximity to downtown San Francisco, approximately 1 to 1.5 miles northwest of downtown.
How should I spend a day in Nob Hill?
Kick off a perfect day in San Francisco's Nob Hill by starting your mornings with a cup of coffee and leisurely stroll through the scenic Huntington Park, followed by a visit to the Grace Cathedral to admire its stunning architecture. Indulge in a delicious lunch at Swan Oyster Depot, and explore the neighborhood's charming boutiques and art galleries. In the evening, catch a live performance at the SF Masonic Auditorium or enjoy cocktails and city views at the iconic Top of the Mark.