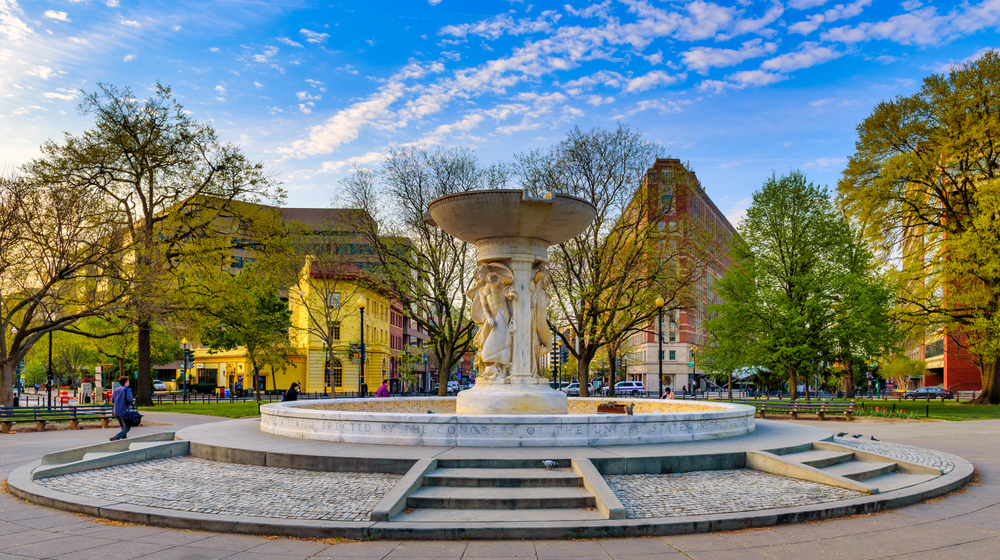 Vibrant Cultural Scene
Dupont Circle is a lively neighborhood in Washington, DC, renowned for its rich arts, music, and cultural offerings.
Eclectic Shopping and Dining
The area is a hub of independent boutiques, vintage shops, and diverse dining experiences, catering to various tastes and interests.
Dynamic Nightlife and Entertainment
From chic cocktail lounges to casual bars and live entertainment venues, Dupont Circle provides an array of options for evening enjoyment.
Inclusive and Diverse Community
Dupont Circle has a long standing reputation as an LGBTQ+-friendly neighborhood, fostering an atmosphere of acceptance and inclusivity for all residents and visitors.
What's it like to live in Dupont Circle?
Dupont Circle is a vibrant and historic neighborhood in Washington, DC, known for its lively atmosphere, diverse community, and timeless beauty. With tree-lined streets, charming rowhouses, and elegant architecture, Dupont Circle exudes a sense of historic charm. The neighborhood offers a rich cultural scene with art galleries, museums, and theaters, and its culinary landscape boasts an array of international cuisines and trendy eateries.
Dupont Circle is also renowned for its welcoming and inclusive atmosphere, serving as a hub for the LGBTQ+ community with numerous LGBTQ+-owned businesses, bars, and cultural events that celebrate diversity. From the iconic Dupont Circle Pride Parade to the welcoming establishments along P Street, the neighborhood's inclusive and vibrant character adds an extra layer of charm to its eclectic ambiance. Whether exploring its namesake park, visiting local shops and markets, or enjoying the vibrant nightlife, Dupont Circle offers an exciting living experience in the heart of the nation's capital.
What is the housing market like in Dupont Circle?
Dupont Circle offers a mix of housing options, ranging from historic row houses and charming townhomes to modern condominiums and apartments. The neighborhood features a variety of architectural styles, showcasing the area's rich history. If you're considering buying a home in Dupont Circle, the median sale price is $465,000. There are plenty of apartments for rent in the area as well.
What's the best way to get around Dupont Circle?
Dupont Circle boasts excellent transportation options, making it convenient for residents to navigate the neighborhood and beyond. The area is well-served by the Dupont Circle Metro station, providing access to the Red Line and connecting to other parts of Washington, DC. With a Walk Score of 98, the neighborhood is also highly walkable, with tree-lined streets and a pedestrian-friendly layout, and offers bike-friendly infrastructure like designated bike lanes and bike-sharing stations.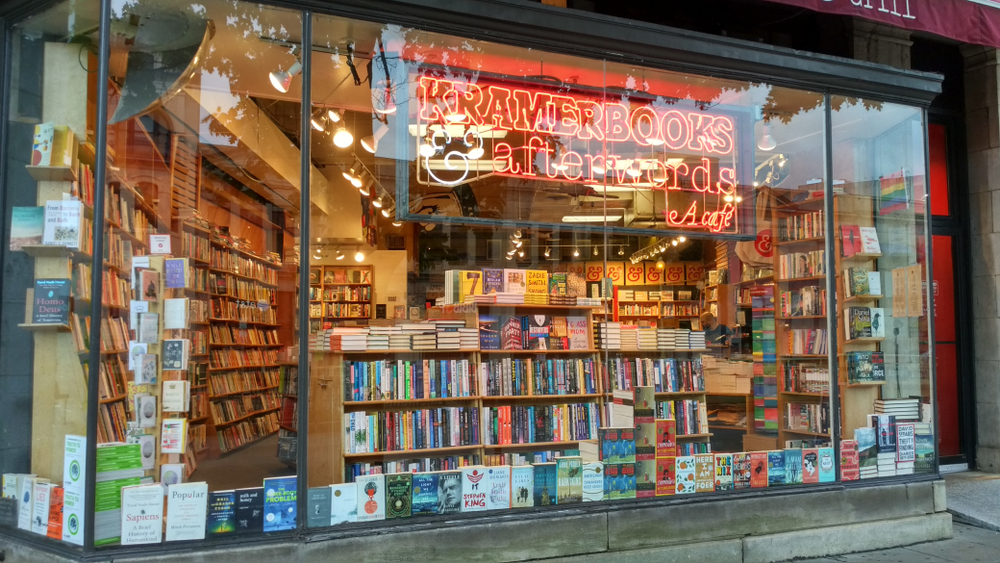 Top things to do in Dupont Circle
Dupont Circle Fountain: The iconic Dupont Circle Fountain is a popular gathering spot and a symbol of the neighborhood. Relax by the fountain, people-watch, or enjoy a picnic in the nearby park.
Phillips Collection: As America's first museum of modern art, the Phillips Collection houses an impressive collection of works by renowned artists. Explore its galleries and appreciate the diverse range of artistic styles on display.
Dupont Circle Farmers Market: On Sundays, the Dupont Circle Farmers Market comes alive with local vendors offering fresh produce, baked goods, artisanal products, and more. Immerse yourself in the vibrant atmosphere and support local businesses.
Dupont Underground: Located beneath the streets of Dupont Circle, the Dupont Underground is a unique art space that hosts rotating exhibitions, installations, and performances. Explore this subterranean venue and immerse yourself in its thought-provoking artistic offerings.
Enjoy the bookstores and vintage shops: Dupont Circle is known for its eclectic collection of bookstores and vintage shops. Spend some time browsing through the shelves of iconic bookshops like Kramerbooks & Afterwords or discover hidden gems in the vintage stores scattered throughout the neighborhood.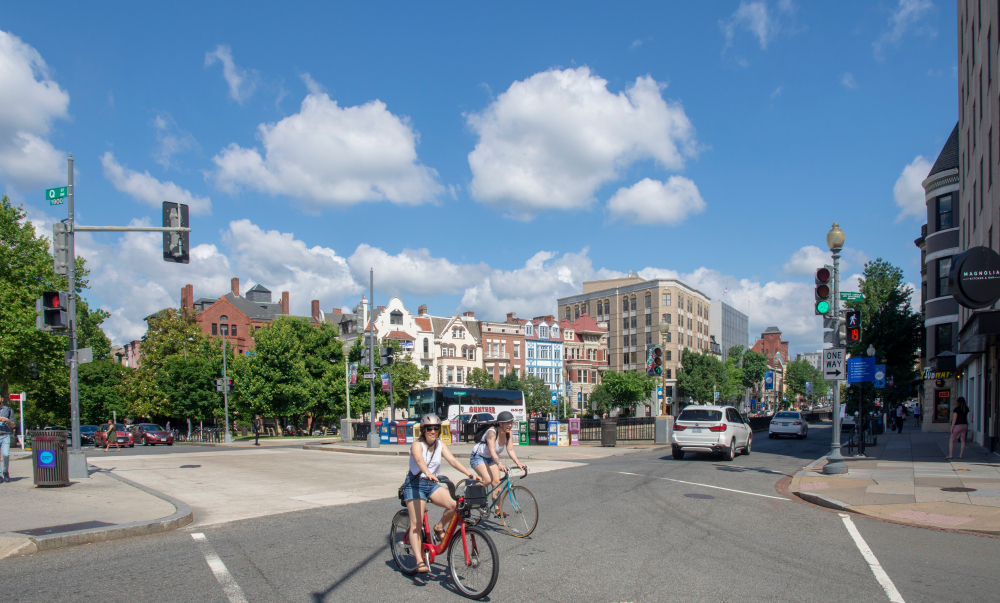 Must-try restaurants and cafes in Dupont Circle
Iron Gate: A charming restaurant housed in a historic carriage house, offering Mediterranean-inspired cuisine and a beautiful outdoor patio.
Bistrot du Coin: A lively French bistro known for its authentic cuisine, lively atmosphere, and outdoor seating options.
Pizzeria Paradiso: A local favorite for pizza lovers, serving up delicious wood-fired pizzas with a variety of gourmet toppings.
Hank's Oyster Bar: A seafood-focused eatery serving fresh oysters, seafood classics, and creative cocktails.
Bagels, etc.: A local favorite known for their freshly baked bagels and a variety of delicious toppings.
Doyle: A glamorous mid-century bar with a seasonal patio and a drinks menu inspired by the '50s and '60s, serving classic and creative cocktails with delicious small plates.
MI CASA: A vibrant Mexican restaurant serving authentic cuisine, including tacos, enchiladas, and flavorful margaritas.
Tips and insights from Dupont Circle locals and experts
Living in Dupont Circle FAQs
Where is Dupont Circle in Washington DC?
Dupont Circle is located in the Northwest quadrant of Washington, DC. It is situated just north of downtown, between the neighborhoods of Adams Morgan and Foggy Bottom.
Is Dupont Circle a good neighborhood in Washington, DC?
Dupont Circle is widely considered to be a desirable and sought-after neighborhood in Washington, DC. It offers a vibrant and diverse community, a rich cultural scene, and a central location that provides easy access to other parts of the city. The neighborhood's historic charm, beautiful architecture, and proximity to parks and amenities contribute to its appeal. However, it's important to consider factors such as housing costs, which can be higher compared to other areas in the city, and the bustling nature of the neighborhood, which may not be suitable for those seeking a quieter residential environment. Overall, Dupont Circle is well-regarded for its liveliness, walkability, and urban amenities, making it a great neighborhood for those who enjoy an energetic city lifestyle.
What is Dupont Circle known for?
Dupont Circle is known for its lively and vibrant atmosphere, rich history, and diverse community. It is renowned for its iconic traffic circle with its central park, where locals and visitors gather to relax and socialize. The neighborhood is also known for its historic architecture, art galleries, museums, and vibrant nightlife. Additionally, Dupont Circle has a reputation for being a hub of LGBTQ+ culture and activism in Washington, DC.
How far is Dupont Circle from downtown Washington, DC?
Dupont Circle is approximately 1.5 miles northwest of downtown Washington, DC. It is considered a centrally located neighborhood and is within walking distance or a short Metro ride from many popular downtown attractions and landmarks.
How should I spend a day in Dupont Circle?
If you've just moved to Washington D.C. and want to explore the vibrant Dupont Circle neighborhood, start your day with a leisurely stroll through the picturesque Dupont Circle Park. Explore the renowned Phillips Collection or visit the nearby National Geographic Museum to indulge in fascinating art and cultural exhibits. Enjoy a delicious brunch at popular spots like Kramerbooks & Afterwords Café or Le Diplomate, followed by a visit to the Dupont Circle Farmers Market to savor local produce and artisanal treats. As the sun sets, head to the lively neighborhood bar, The Board Room, to enjoy board games and craft beers, or catch live jazz performances at the iconic Blues Alley. End the night with a delectable dinner at Iron Gate, known for its Mediterranean-inspired cuisine and charming outdoor patio.