February 26, 2013
October 5, 2020
by
Glenn Kelman
Updated on October 5th, 2020
Here is Redfin's monthly email newsletter, with a little about Redfin and a lot about what's happening in the real estate market.
Howdy Redfin Fans!
Welcome to our action-packed newsletter on the U.S. Housing Market. First, what's new at Redfin?
Redfin Expands to Charlotte, Publishes Details on Bidding Wars
For starters, Redfin just expanded to Charlotte and The Triangle area of North Carolina, with Houston, Delaware and the Bronx to follow this week.
To help you figure out what it takes to win a deal, we also began publishing stats and notes on the 1,000+ offers Redfin's own agents write each month. This is juicy stuff: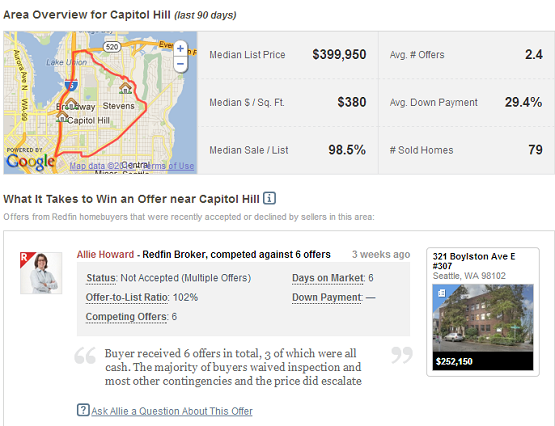 We also launched Redfin Collections, for sharing sets of pretty listing photos of celebrity homes, extreme taxidermy, luscious gardens, the weird stuff, gorgeous views, amazing kitchens, modern mansions and interesting art. Tucked into these Collections  are some  bizarre photos of how other people live and some lovely ideas of how, perhaps in another life, you and I could live:


Meanwhile, for would-be home-sellers, we published a data-driven report on how to get top-dollar for your listing:
by debuting in April not July, on Friday not Monday;
by paying for professional photos rather than the agent's instamatic; and
by pricing at the middle of the market rather than the top, to attract competing buyers.
To learn more about listing your place, just give us a shout.
Silent Spring: Many Buyers, Few Sellers
But enough about us. What's going on in the real estate market? The main thing is that many home-buyers can't find a home to buy. After a year in which inventory fell 30%, things went from bad to worse. Through the first six weeks of 2013, new listings dropped another 18% over last year. Last December, we predicted it would start going the other way in 2013. You win some, you lose some.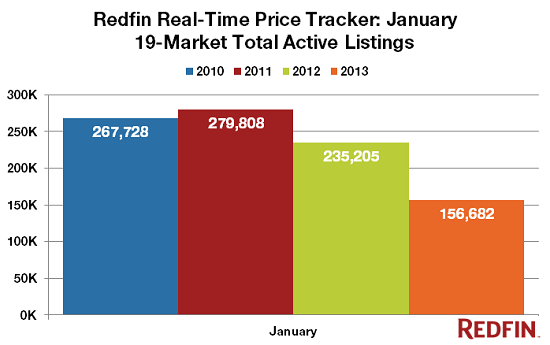 What's going on? Last year, the number of foreclosures reaching the market started to fall fast, as legal challenges mounted and banks saw their derelict properties plummet in value. In states that require court approval for a foreclosure, the number of foreclosed homes for sale peaked in the middle of 2012; elsewhere, foreclosures started falling three years prior. Mortgage delinquency rates have now declined to the lowest level since 2008.
But 2012 still had plenty of short sales, where banks agreed to let an underwater homeowner sell the place for less than the mortgage amount. Now this year, because of rising home prices and liberal loan modifications, fewer folks had to walk away from their mortgage, and even short sales began to disappear: short-sale listings are down 54% in 2013.
The Tweener Stage, Prices Up 10%
The market has now entered a tweener stage, where nobody has to sell, and not enough people want to sell either. Anyone thinking about listing a home bought in 2008 or 2009 is unlikely to make much money, and often decides to wait a bit longer for more price increases. As any East German will tell you, the transition from a command economy is always awkward.
As a result, 70% of the homes on which Redfin agents bid in January had competing offers; 30% of new listings were under contract in less than two weeks. Compared to last year, January prices increased 10% and sales increased 9.1%.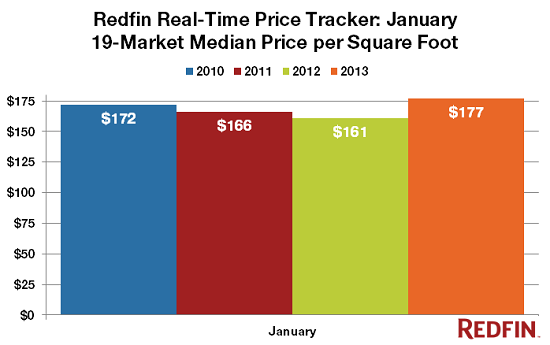 Sales would be much higher if there were more homes to buy. The number of construction projects started for single-family homes in the last three months of 2012 was up 44% compared to the same period in 2011 but still at just a quarter of the 2005 peak. Many builders are struggling to find lots anywhere in town that they can buy and develop.
What could slow the market down? Mortgage rates have increased in eight of the last nine weeks to 3.75%, the highest rate since last September. Eventually, money will get more expensive and buyers will become more scarce, but we don't think that's going to happen any time soon.
What's your take on the market? Just leave a comment below or on Facebook.
Best, Glenn
Glenn Kelman | CEO, Redfin