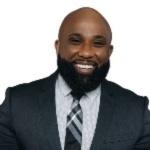 Brokerage:
eXp Realty LLC
About Fred
Looking to buy a new home or perhaps sell your current home? My name is Fred Tessier and I am an Award Winning Realtor here in the State of New Jersey with Tessier Property Group, brokered by eXp Realty. Me and my team would be thrilled to meet you, learn more about your real estate needs, and will also build a strategic plan throughout this market to meet your real estate goals.
Fred's Reviews
Most Recent Reviews
Fred was a true blessing. He made the home buying process as smooth as possible. He is very knowledgeable, kind, respectful, encouraging and positive. He provides top quality services that you will not get anywhere else.
Fred is absolutely incredible. I couldn't have asked for a better experience from a realtor. He was attentive to our specific needs while also being patient with us during the process yet persistent in making sure we find what we want in this competitive market. Sometimes we wondered if Fred ever slept because he was always available, always responsive and always 10 steps ahead of us. We showed Fred a house we loved one day that wasn't on the market and told Fred if you can find me a house just like this, we would be so happy. Guess what? Fred found the exact house we were looking for. Our mind was blown! Fred has proved to not only be a trustworthy realtor but now we also consider him a true friend.
See All Reviews