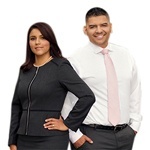 The Mira Team - Isabel and Roy
---
Agent License #:
1757517 | 10401273541 | 2075967 | 10401273542
Brokerage:
Real Broker, LLC
The Mira Team is currently not taking Redfin clients
About The Mira Team
Roy Guevara Raised in a "real estate family" on the west side of Brooklyn, NY, Roy Guevara learned the inner workings of the business at an early age. Roy obtained a Bachelor's degree in business management with which he founded a luxury logistics transportation company. Throughout the years Roy has worked on Investing/ remodeling properties in Brooklyn and New Jersey. With complementary experience as a loan adviser, Roy provides a unique and priceless insight into obtaining, financing, and maintaining multi-family properties. Joining Compass September 2017 Roy is a true asset for the community and for anyone in the market. As a renaissance man of the city Roy enjoys horror films, a New York slice of pizza, and showing the good people of this city around it's great neighborhoods. Isabel Guevara: Coming from the coast of Ecuador, now 15 years a New Yorker, Isabel Guevara is familiar with the need for an oasis in this city we all love. Isabel obtained a Bachelor's degree in Urban Development. With a deep understanding of the creation and evolution of communities both architecturally and commercially, Isabel has a keen eye for finding the property that will suit your needs. Isabel served at the United Nations Development Corporation as a point of contact for hospitality and building management services during a building update. Through her rich work experience Isabel has encountered the unique energy that springs from the streets of this city. In addition to her work experience, Isabel has assisted with home consultations, providing neighborhood and building insight to real estate agents and interested buyers. Whether you are looking for an investment or for your own abode, Isabel can lead you in finding that property.
The Mira Team's Reviews
Most Recent Reviews
Very professional..excellent service I will highly recommend
They were both proactive and response in identifying and following up on leads and ideas. The process was timely, smooth and pleasant - significant during a time ( covid 19 pandemic) that could have been very trying and difficult.
See All Reviews