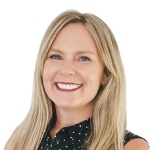 Agent License #:
RB14036710
Brokerage:
Key Associates Signature Realty
About Kara
Kara Hinshaw took over ownership from her parents who started Key Associates in 1975. She has been in the real estate business for 16 years and currently owns and operates the business in four locations: Spencer, Dubois, Perry, and Vanderburgh County. Kara is a graduate of Purdue University with a degree in Industrial Engineering. Kara worked for 10 years as a Global Commodity Manager in North Carolina for IBM, Flextronics, and GlaxoSmithKline. During this time, she developed great negotiation skills working globally to procure and write contracts for these Fortune 500 companies. Kara started her real estate career when she moved back to Indiana to be with her family. Kara's goals for Key Associates are to grow a brokerage that operates as a team across all of Southern Indiana. She believes in supporting new and existing agents with tools, support, and training with what she needed when starting her real estate career. She has a passion for real estate and loves helping clients and her agents within her brokerage.
Kara's Reviews
Most Recent Reviews
Kara was great to work with!
I recommend her company daily She dose 1-2 million for me every year
See All Reviews