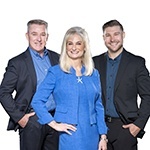 Cal DRE #:
01383837 (Pam), 01922078 (Darren), 02013861 (Nigel)
All Reviews
All
Like many, this was our first time buying a home, we were nervous, had a lot of questions, and knew basically nothing about the process. Team Etem made us feel comfortable and confident in buying our dream home. They were patient, kind, compassionate, and above all, extremely hard working. We can't recommend them enough.
The entire team is extremely professional and knowledgeable about the Orange County real estate market. They offer extremely valuable advice and take the lead on tough negotiations.
Team Etem exemplifies the word Professional. Always accessible and willing to go the extra mile for the Client is their trademark. Buying or Selling I would highly recommend them