Creating a welcoming guest room is essential for anyone who enjoys having friends and family come to visit. A guest bedroom should be comfortable, functional, and well-styled to ensure that your guests have an enjoyable and relaxing stay. In this article, professionals, such as interior designers, organizers, and more in the industry have provided easy tips and accommodating ideas on how to set up and style your guest room.
Whether you're starting from scratch, you just moved to a house in Oakland, CA, or just looking to spruce up your existing guest bedroom in your apartment in Orlando, FL, these professionals have got you covered with plenty of guest bedroom ideas and guest bedroom decorating ideas to make your to give your guests a welcoming stay and a good night's sleep. With these expert tips and accommodating ideas, you'll be able to style your guest room like a pro and make your guest bedroom feel luxurious.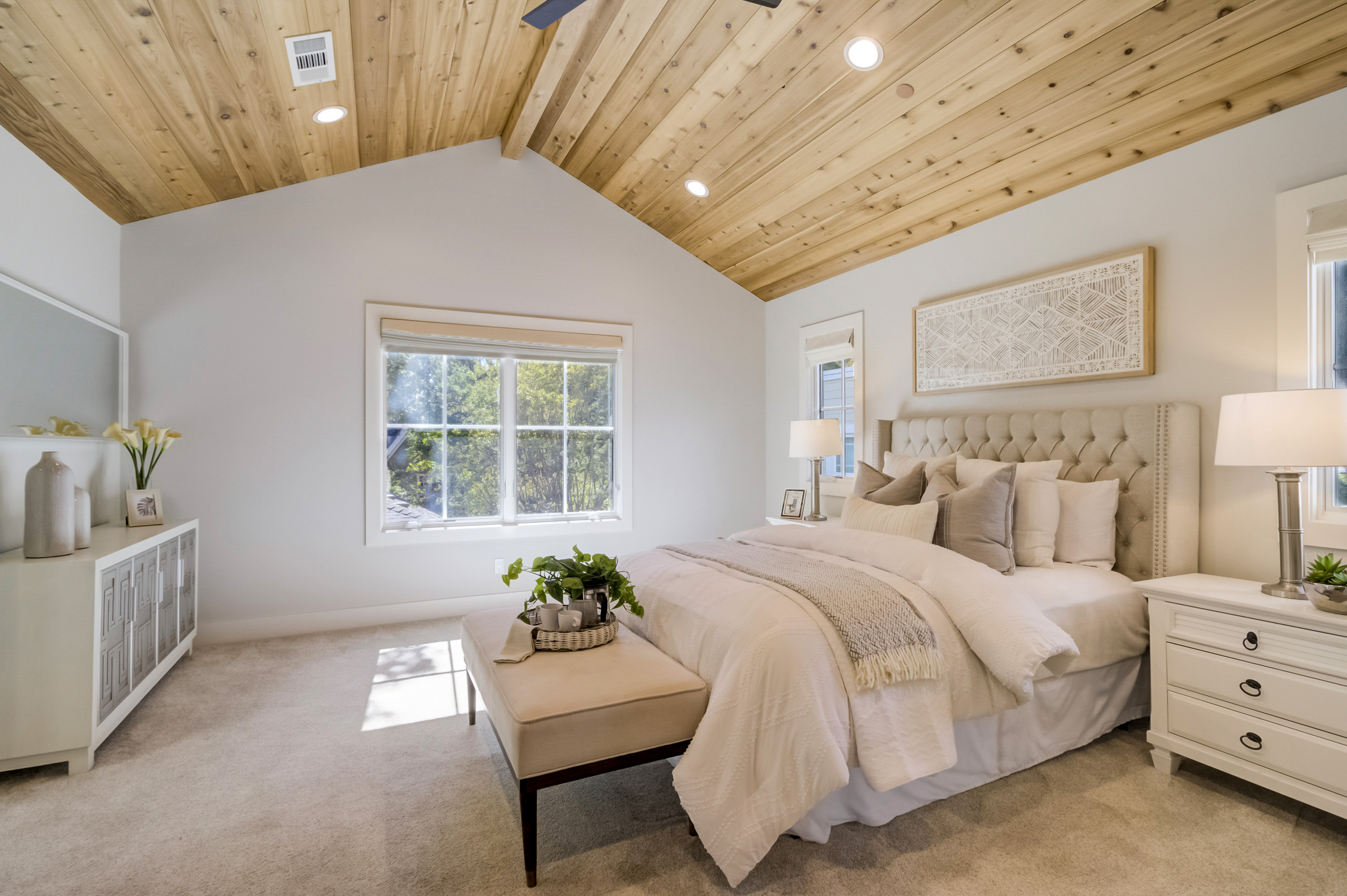 1. Prepare everything before the guests arrive
"In anticipation of your guests' stay, be sure to clear out any unnecessary knick-knacks and furniture to create a spacious and breathable room. Provide a bench for your guests to place their suitcases," recommends Deborah Bettcher Decorating Den Interiors.
2. Design a welcoming, minimalist guest room
"To create a warm and welcoming guest room, consider incorporating colors like blues, purples, and nudes. It's also important to avoid personal family photos or mementos that may make guests feel like they're staying in someone else's room," suggests Cassie Kang Designer at Kang Contractors.
"Instead, opt for minimalist decor to keep things simple and inviting. For added convenience, leave a basket or tray with fresh towels and toiletries on the bed or in the ensuite bathroom. This way, guests can feel right at home and fully accommodated without having to ask where anything is."
3. Accommodate your guests in style
"To create a welcoming guest room, start by ensuring that the space is uncluttered and free of any personal items," recommends  Ambry Organizing's Professional Organizer, Monica Rhodes. "Offering closet and drawer space will allow your guests to unpack and make themselves at home.'
"Adding a cozy blanket to the bed can create a warm and inviting atmosphere. Giving the room some life with a diffuser, fresh flowers, snacks, and water will add an extra touch of hospitality. Additionally, be sure to provide a wastebasket for your guests' convenience. To make the room feel even more comfortable, consider providing bedside lighting and reading materials, as well as a charging station with Wi-Fi information and a clock."
"When it comes to styling the guest room, start with the basics: a comfortable mattress for two, a bedside table, a dresser or desk, and an accent chair. By offering all the essentials, your guests will feel right at home."
4. Personalize their stay
"Start with providing a variety of pillows and blankets to accommodate everyone's preferences. Make sure to clear out some closet space and add hangers and a luggage rack for their convenience. Seating options such as a bench or armchair are a nice touch, as well as providing bedside tables and a dresser or small desk for their belongings. Finally, add personal touches like their favorite snacks, a bouquet, or a small gift to make them feel special during their stay," recommends Cindy Carpenter Interior Design.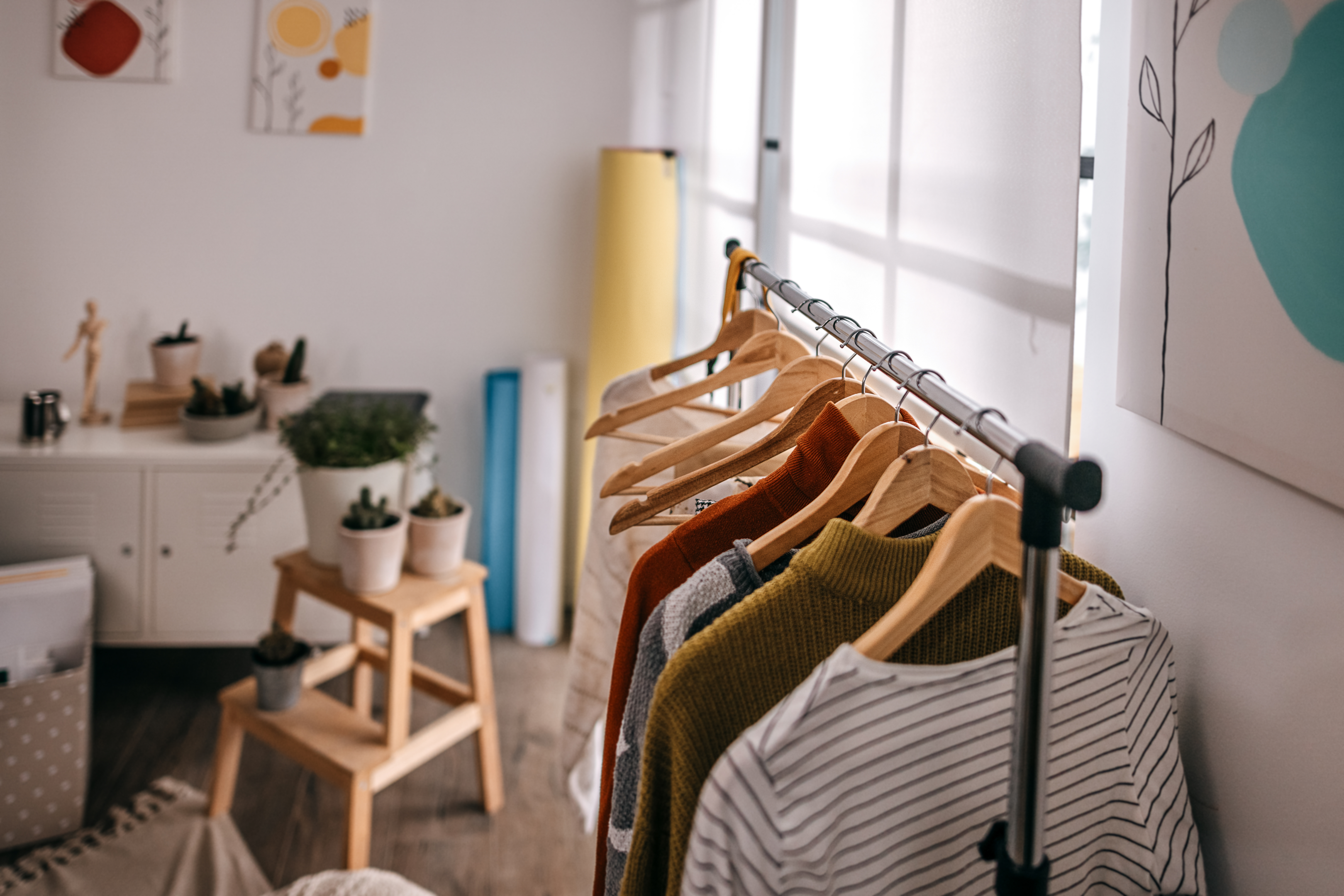 5. Optimize functionality with comfort
"The first thing I like to think about when considering the design of a guest room is the functionality of the space. If there's a view or windows in the space, I like to maximize the view and natural light by thinking of the placement of the furniture. This will add a relaxation element for my guests to be able to enjoy the view," provides Designer 4 U.
"Add a suitcase stand or a dresser for storing their clothes and personal items. They will feel like they can unpack and stay a while. Then you can add softness to the space with a large area rug, crisp white and neutral-toned bedding and pillows, and plants to add greenery. Lastly, I like to think about adding comfort to the space with items such as a cozy throw blanket on the end of the bed, a filled water carafe and glass on the nightstand, and a chair or bench to sit and relax or put their shoes on. All these suggestions will add comfort, enjoyment and make your guests feel welcome."
6. Provide a thoughtful, detailed guest room setup
"There are several essentials to keep in mind when setting up a bedroom for your guests," says Bellisa Design. "Start with the basics: a bedside table, lamp, clock, and consider throwing in a chair. Be mindful of the furniture, ensuring that it doesn't overcrowd or overwhelm the space. If a ceiling fan isn't available, consider providing a small portable fan for air circulation. A basket of fresh towels and a catch-all dish for jewelry are both useful additions. Don't forget to include tissues and bottled water or a carafe for your guests' comfort."
7. Connect your visitor with your community
"I like incorporating different pieces of art from local artists based on what fits the design and the style of the guest room. This helps create a connection between the visitor and the community," suggests Interiors by Amber.
8. Optimize space for storage
"As a professional home organizer, when preparing a guest room in a client's home, it is essential to clear clutter off of dressers, side tables, and even in a portion of the closet," says An Organized Home OC. "The guest room is a place for guests to feel comfortable in placing out or storing their things. Empty drawers for items a guest might need to store like a spare pair of keys to the house, a map of the local area, and a few good books or magazines to read."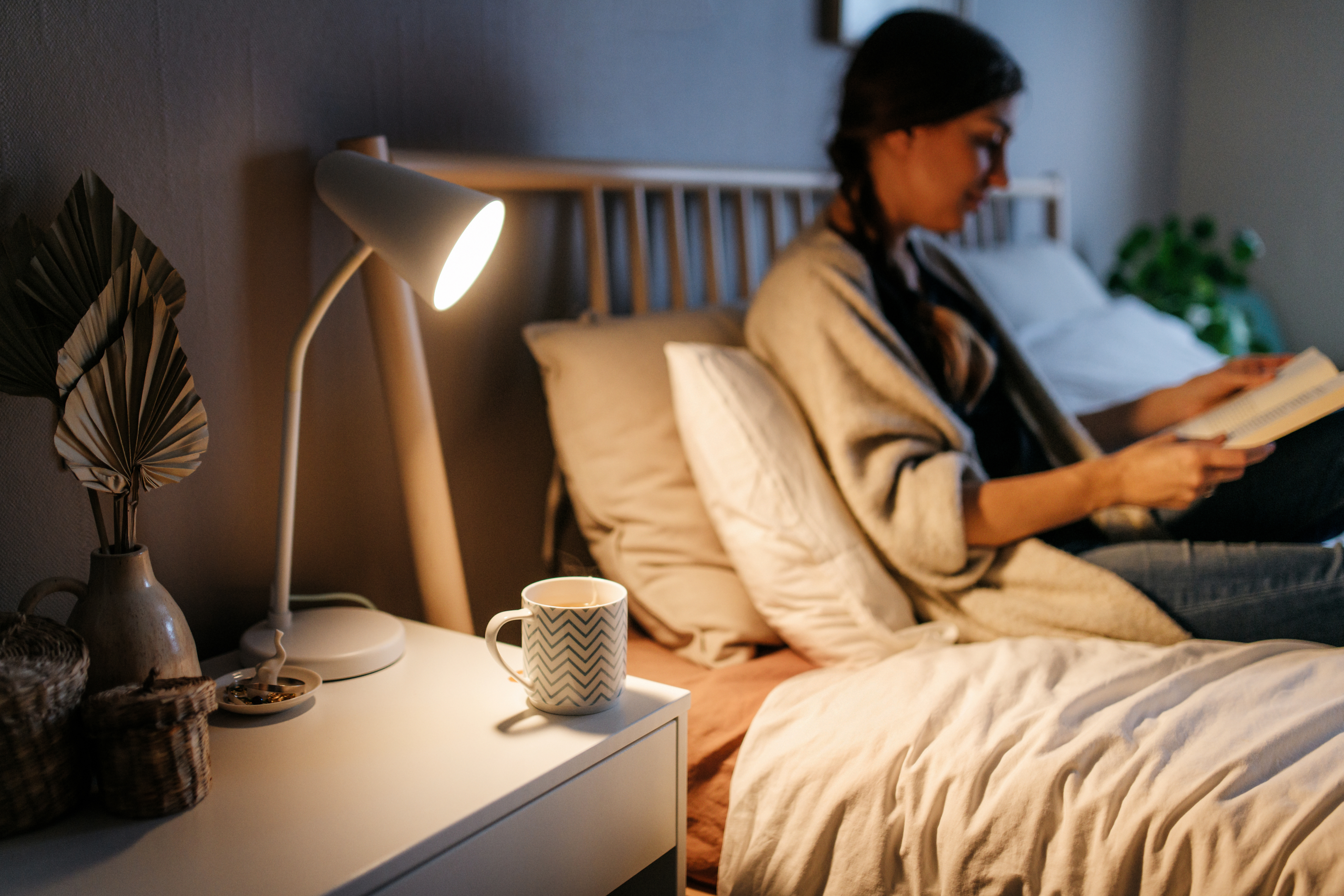 9. Simple and affordable tips to accommodate your guests with ease
To make your guest feel more comfortable, I recommend a few inexpensive items to enhance their stay. Inexpensive items like a couple of hotel-style luggage racks not only add a special touch but also make it easier to unpack," suggests Cloudy to Clear Professional Organizing. "If a closet is unavailable, a small rolling clothes rack or wall hooks can also be used. Providing a small folding table or a versatile 3-tier rolling utility cart can be great for guests to place their miscellaneous items. These extra touches will make their stay feel more welcoming and comfortable."
10. A clever way to Improve your guest room experience is by trying it out yourself
"Perhaps a bit unconventional, but the most effective way to figure out how to improve your guest room is by staying there yourself," reveals Settled In Soundly. "Once you've set up the guest room, pack an overnight bag and try sleeping there for a night. You may find you've forgotten something, the pillows aren't as comfortable as you thought, or there are other things you'd like to change."
11. Guest room must-haves: Storage and charging stations
"Many guests stay for more than one night, so it's essential to provide them with some storage space to make them feel at home. An organized charging station is a must-have," suggests Order From Chaos. "If you're anything like me, you always forget your charger cord. Be the hostess with the mostest and create a section strictly for your guests – they can allow their electronics to rest after a long journey."
12. Create a personalized welcome for a luxurious guest room experience
"To make your guests feel special and well taken care of, consider providing mini cosmetics and a personalized welcome message. Choose travel-sized versions of your favorite cosmetics, such as shampoo, conditioner, body wash, and lotion, and arrange them in a decorative bin or basket. Look for products with natural ingredients and pleasant scents to make the experience more luxurious. Tie a ribbon or bow around the bin to make it look festive," proposes Clear Co Florida.
"Another great way to welcome your guests is by investing in a letter board or chalkboard and writing a personalized message. Include their names and any other details that make them feel special, like their favorite snacks or drinks that you've stocked in the fridge. Put the letterboard in a prominent place in the guest room where your guests will see it right away. Add fresh flowers or other decorative touches to make the room feel even more welcoming."
"By combining these elements, you'll create a cozy and thoughtful atmosphere that will leave a lasting impression on your guests. They'll appreciate the effort you've gone to and feel like they're staying in a luxurious hotel rather than someone's spare room."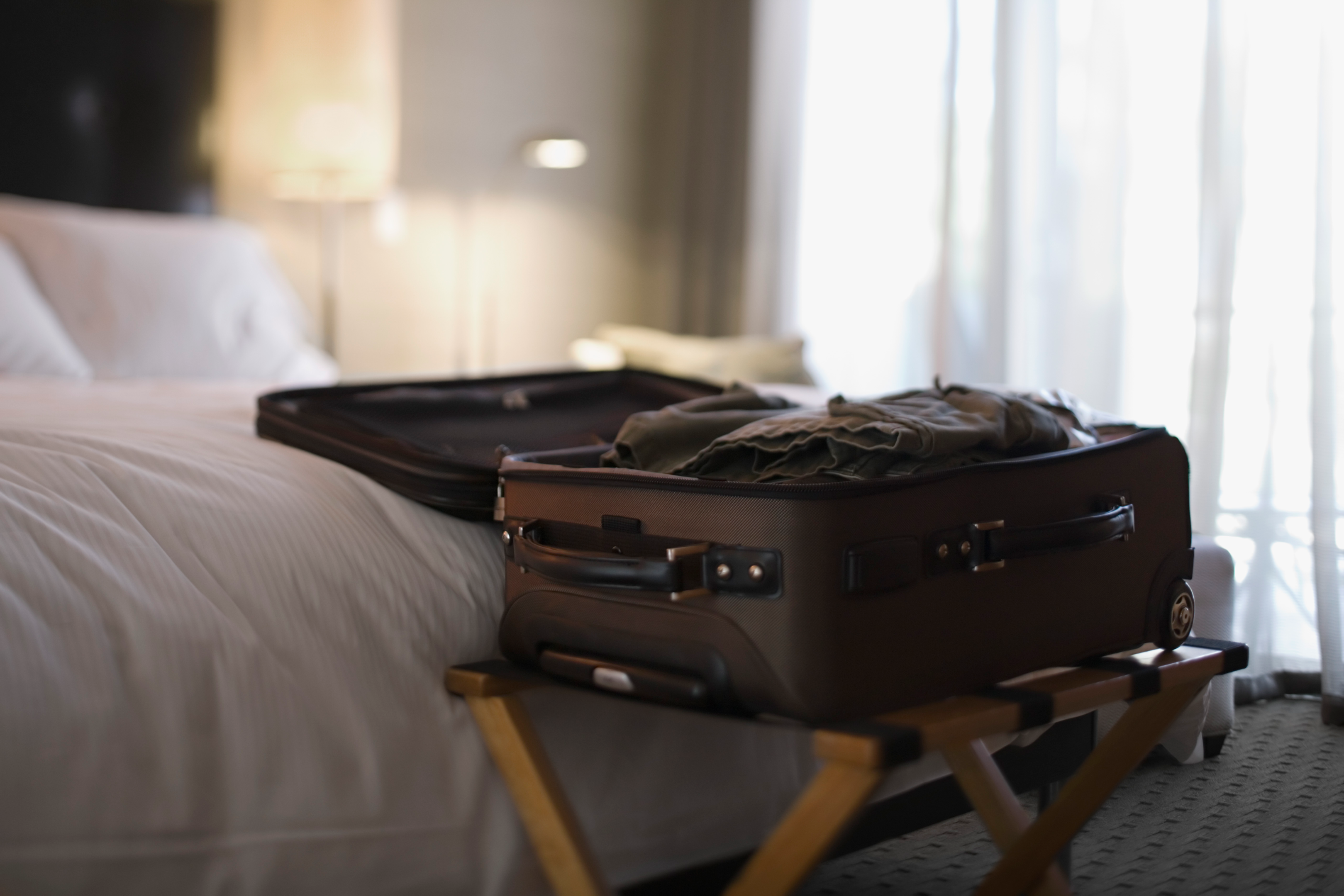 13. Provide luxury comfort items for an unforgettable stay
"To enhance the comfort of the guest room, it is best to use high-quality linens with a high thread count, providing a luxurious feel for your guests," Palm Beach Organized. "Rather than offering old or unused linens, it is best to repurpose or donate them. A plush bathrobe and slippers can also add to the luxurious feel of the guest experience. Lastly, keeping the space clean, tidy, and well-maintained throughout their stay can help guests feel pampered and taken care of."
14. Keep it simple by providing the basics
"An extra blanket across the bottom of the bed, a few extra towels in the bathroom, and a consolidated toiletry kit with extras necessities will quickly put your guest at ease and let them know you are happy to have them in your home," adds Shae Interiors.
15. Incorporate natural materials
"Using natural materials like cotton, wool, rattan, and wood can bring a calming touch to a guest room. Earth-toned furniture and linens, along with a simple olive tree plant and some white noise, can help your guests feel as though they're in a remote and peaceful location," claims Alana's Organizing.
16. Keep it simple by providing the basics
"An extra blanket across the bottom of the bed, a few extra towels in the bathroom, and a consolidated toiletry kit with extras necessities will quickly put your guest at ease and let them know you are happy to have them in your home," adds Shae Interiors.
17. Choose the Right Mattress and Sheets for a Comfortable Guest Bed
"When preparing a space for your guests to sleep, a comfortable bed is essential. A full to queen-size mattress will comfortably accommodate two people, although a queen will provide an additional 5 inches in length for taller guests," suggests BB Beauchamp Interior Design. "Memory foam mattresses are a popular choice and reasonably priced. Using sheets with a reasonable thread count, somewhere between 300 to 600, will provide a soothing night's sleep for your guests."
18. Add small touches for a big impact
"Think of the little things, like making sure you provide enough drawer space with compartments for organization. If you want your guests to feel at home, a small addition with a big impact will do the trick, like providing extra hangers for their clothes," suggests Keren Geva from Organize It San Francisco. "A nice addition like a water cup and a decorative toothbrush holder near the bathroom sink would be nice. Ensure your guests have privacy by choosing the right window covering to create a great atmosphere and privacy. Use bright colors and sun-blocking blinds. Finally, if your guest room is small, I suggest hanging your curtains high, which will expand the space visually."
19. Advice from an interior designer and traveler: How to create a peaceful and welcoming space
"As both a host and avid traveler, I find a grounding and peaceful environment to be the most welcoming when away from home," says Johanna Sprague Interior Design. "This can be achieved through light neutral walls, a decent-sized plant for revitalizing feng shui and air purification, natural textiles and pillows, and at least one piece of art that invites the viewer to explore and mentally escape. Minimal yet intentional decor, soft bedside lighting, a variety of reading material, and sufficient closet or storage space for guests to hang their clothes, place their belongings and settle into, can really provide a sense of wellbeing and anchoring at the end of a long day of travel or work. Hearing guests share how calm and well-rested they feel after staying with me is always the highest praise.
20. Transform your guest room into a 5-star hotel
"A welcoming guest room can make a lasting impression on your guests, and it's all about the details. Providing extra blankets and pillows to accommodate different sleeping preferences, along with fresh towels and basic toiletries, shows that you value their comfort and convenience." Dawson Design Co adds, "To elevate the experience even further, consider adding personal touches such as artwork and plants, and ensure the space is clean and clutter-free. By putting in a little extra effort, you can create a guest room that feels like a luxurious hotel retreat."
21.  Get bedding your guests won't ever want to leave
"The bed tends to be one of the most important aspects to your guests, as they usually flop down as soon as they enter the room to test out the blankets and mattress," says Beddley. "Instead of using stiff, uncomfortable bedding that will leave guests tossing and turning all night, opt for patented Beddley duvet covers. The 300-thread count covers are crafted from 100% premium long-staple soft sateen cotton and have a revolutionary 3-sided zipper closure, making it easier to get the cover off and on."